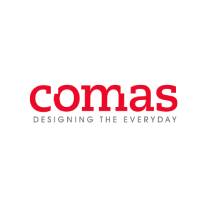 COMAS & PARTNERS
COMAS AND PARTNERS, S.L.
C/ El Bosc De La Riera, Nº7
Lliçà D'amunt
Barcelona

Tel: 34 93 8712963
Fax: 34 93 8444280

Brand
Description
Founded in 1991, COMAS & PARTNERS, S.L., has consolidated as major operator in the Spanish cutlery industry. Thanks to major investments in state of the art machinery, we were granted UNE-EN-ISO 9001/00 in 2003, certifying thus our commitment to taking permanent measures to control and check manufacturing process, management and logistics. Capitalising on the guarantee given by those measures, we then started producing for the highest range in 18/10 stainless steel cutlery. Actually average production of 30 million pieces a year.
Anticipating market trends, we decided in 2004 setting up a joint venture with one of the major and most famous factories in continental China. With more than 4.000 workers and 150.000 m2, the Chinese Company produces an average of 12 million high range pieces a month.
Likewise, the recent enlargement of our premises in Cardedeu (Barcelona), has doubled our surface for stocks, enabling a quicker and most effective stock management to provide our clients with the best service they deserve. A wide network of wholesalers and sales representatives enable our company to be present in more than 40 countries. Our highest commitment is try to deserve total loyalty from our clients. For that reason, we have stocked up to 2.300.000 euros worth of goods in order to offer the best service.