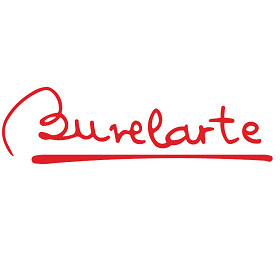 BURELARTE
BURELARTE S.L.U.
Parque Empresarial De Cuiña 102-112
San Cibrao - Cervo
Lugo

Tel: 34 982 59 50 17
Fax: 982594307

Brand
Description
At Burelarte our articles are created from a porcelain composition, obtained from a mixture of kaolin, clay, feldspar and quartz. Once this mixture has been glazed, it is fired for 24 hours until reaching a temperature of 1280º C, a process that converts the resulting product into a noble material, characterized by its high resistance, compactness and impermeability.
To obtain our colours we use non-toxic glazes free from heavy metals such as lead, cadmium or selenium, in keeping with the most stringent international health regulations. Their zero porosity prevents the absorption of dust, pollens, odours, flavours or germs.
All of our pieces can be used in dishwashers, microwaves, freezers and conventional ovens, without any risk. They are extremely easy to clean and excellent heat insulators, helping to maintain the temperature of foodstuffs. Their special composition perfectly resists the normal wear and tear of intensive use, and prevents cracking from occurring. In the event of receiving a strong impact they break into large pieces that are easy to see, making it more difficult for them to become mixed in with foodstuffs.
Our objects are exclusive in themselves. At Burelarte we create them, refine them, glaze them and decorate them individually, improving their final finish. No two pieces are the same, and all of the minor variations in colour, decoration and thickness are proof of their high quality, and in no way should be considered as manufacturing defects.