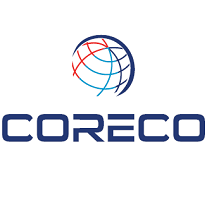 CORECO
CORECO S.A.
Ctra. Córdoba-málaga Km. 80,800
Lucena
Córdoba

Tel: 34 957 510355
Fax: 34 957 509106

Brand
Description
CORECO offers a wide range of machinery for the hotel and industrial refrigeration, based mainly on bottle coolers, tables, cabinets and showcases.

These products, covering different temperature ranges and can find localized versions (depending on model) to the various needs (snack, GN, fast-food, tapas, sushi, deli, bakery, fish, tropical climates, pre-refrigeration plant,. ..) This range is completed by auxiliary neutral furniture, countertop, bar and kitchen.

CORECO focuses on the design and manufacture of machinery for the industrial refrigeration sector in hotels, restaurants and commercial food.
We're 25 years manufacturing for bars, restaurants, hotels and communities.

We have two manufacturing plants, 30,000 square meters, equipped with most modern systems for the processing of raw materials, finished product warehouse, shipping and 1,200 meters on two floors, where our technical department, sales, administration and management.

Commercially, we now have a solid and extensive network throughout the Spanish territory, with 12 branches in most stores supported by regulators.

Our research department, design and innovation, take appropriate follow-up to future demands and for designing new products that can be accommodated within the sector.

Quality and design are priorities in CORECO, ISO-901, ETL, GOST, IRAM, are some of the approvals that support our products.

Our export business is operating CORECO EXPORT, where we work with skilled staff in foreign trade.

Products
accesorios para cafeteras
bajomostrador refrigerado
carros fríos expositores de marisco
contramostrador refrigerado
expositores de tapas, neutro
expositores de tapas, refrigerado
freezing equipment, fast and slow
instalaciones frigoríficas especiales
mesas frigoríficas preparación pizzas
mesas refrigeradas para pastelería
wine cabinets, temperature controlled