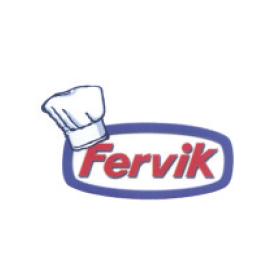 FERVIK
FERVIK, S.A.
Ctra. Sabadell-granollers, Km. 7,1
Palau-solitá  I Plegamans
Barcelona

Tel: 34 93 8648756
Fax: 34 93 8648670

Brand
Description
This family company was founded in 1955. It specialises in manufacturing plastic ware for hotelery and home kitchens. We give quality of products, service, and personalised attention. Our modern installations are specialised in plastic injection. This allows us to obtain the best relationship between quality and price. Our articles are geared towards the professional hostelry sector. These articles include implements for food preparation and storing, cleaning and rubbish selection, without forgetting small items of table and kitchenware. All of our products have health certifications for use with foodstuff.
PRODUCTS
STORAGE: Round containers from 12 to 100L. Boxes for transporting in 30, 50 and 64L. sizes.
TRAYS: Square and rectangular from 4 to 26L. with or without a top. Round ones from 1L. to 5L.
PAILS: With stainless steel handle in 8, 11 and 13L. WARES: Bowls, scups, funnels, saltshakers, tooth pick holders, ashtrays, pitchers, and glasses.
CLEANING: 50,75 and 100L. rubbish bins, waste paper baskets, dustpans, and doormats.
Products
artículos de menaje de plástico