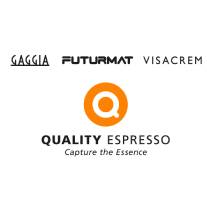 QUALITY ESPRESSO
QUALITY ESPRESSO, S.A.U.
Motors, 1-9
Barcelona
Barcelona

Tel: 34 93 2231200
Fax: 34 93 3322111

Brand
GAGGIA, FUTURMAT, VISACREM
Description
Quality Espresso is a leading company in the sale and manufacture of professional espresso machines.
With a heritage of more than 65 years, the company combines tradition with innovation to offer high quality coffee equipment, continuously striving for the perfect espresso, working to satisfy the most demanding baristas and coffee enthusiasts.
Our principle brands Gaggia, Futurmat and Visacrem are synonymous with quality, design, reliability and durability, making them a reference for espresso machines for professional use.
Our 17,000 m2 production facility allows us to control the whole manufacturing process and to grow internationally with a presence in more then 90 countries.
Products
coffee machines, electronic
coffee machines, espresso
coffee machines, semi-automatic
coffee machines, super-automatic
elementos de autoservicio y buffet