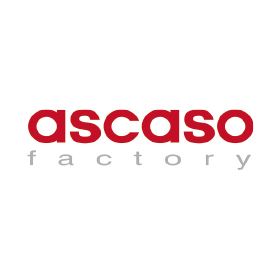 ASCASO
ASCASO FACTORY, S.L.U.
P.i. Gava Park C/ Coneixament, 1
Cornellà De Llobregat
Barcelona

Tel: 34 93 475 02 58
Fax: 34 93 377 98 03

Brand
Description
Ascaso Factory was born in 1962 in Barcelona and founded by J. Ascaso. In 2012 we celebrated 50 years of our \"espresso project\" .In the beginning, the company specialized in manufacturing of components for espresso coffee machines.

Today, 50 years later, the company has expanded its activity, growing and consolidating new areas of business. As well as consolidating the progress of the company, keeping the business in the family has helped bring to fruition the idea of manufacturing our own coffee machines and horeca machinery.
Now, Ascaso Factory has more than 10.000 m2 dedicated to the espresso world, horeca machinery and spare parts.
Ascaso Factory is formed by 3 professional divisions:
Components
Components for Horeca Machinery.
8 sections:
Coffee machines and Coffee Grinders, Washer, Ice, Refrigeration, Gas, Vending and Small Machinery.
Coffee Machines
Coffee Machines and Coffee Grinders (own production).
Extended high quality range. Professional system.
Horeca
Horeca Machinery.
Complete range of own-brand and imported products to meet the needs of the professional.
Ascaso The Story ES from Ascaso Factory on Vimeo.
Products
coffee machines, electronic
coffee machines, espresso
coffee machines, semi-automatic
coffee machines, super-automatic